Buildertrend is cloud-based construction enterprise resource planning (ERP) and accounting software that helps you manage your projects, create estimates, and keep track of billing. Its features include customer relationship management (CRM), payment processing, bill and purchase order (PO) management, and accounting integration. The cheapest option of Buildertrend costs $399 per month but is available for $99 per month for the first two months.
Buildertrend

Pros
Integrates with QuickBooks and Xero
Includes a built-in CRM system
Powerful time clock feature
Includes one-on-one coaching
Cons
Must pay a separate fee for your QuickBooks or Xero subscription
Cannot manage and track equipment
Requires an internet connection
Processing change orders requires the Pro subscription
When To Use Buildertrend
Construction companies using QuickBooks Online: While Buildertrend already helps you manage your customers, jobs, and presales, its integration with QuickBooks Online also provides the tools you need to manage your finances with improved accuracy. Buildertrend itself stores data on bills, expenses, jobs, POs, invoices, and approved timesheets, and QuickBooks Online will handle bill payments and track expenses not recorded in Buildertrend.
Construction companies using Xero: Buildertrend also integrates nicely with Xero because it lets you generate customer invoices automatically from scheduled payments and approved orders, creates payables from approved POs, and improves communication between owners and subcontractors.
Construction companies that need CRM software: A built-in CRM system provides a single tool to manage contact information, service records, and sales history.
---
When To Use an Alternative
Users preferring desktop software: If you need an accounting program that you can access without an internet connection, then Buildertrend isn't for you. QuickBooks Premier Plus Contractor Edition is a good choice for contractors wanting desktop software.
Companies that aren't QuickBooks or Xero users: Buildertrend isn't a full accounting application. If you aren't an existing QuickBooks or Xero user, choosing Buildertrend is an expensive option since you'll have to pay two subscription fees: one for Buildertrend and one for either QuickBooks or Xero. Instead, we recommend JOBPOWER because it has accounts payable (A/P), accounts receivable (A/R), and construction payroll features.
Companies that want to manage equipment: Buildertrend doesn't track your fixed assets. Sage 100 Contractor is a good choice for storing, managing, and tracking fixed asset information.
---
Buildertrend Deciding Factors
Are you looking for something different? Read our guide to the best small business accounting software to check out our top picks.
Buildertrend Alternatives
Buildertrend vs Competitors
Buildertrend is our best overall construction accounting software. Because of its project management and accounting features, it is a one-stop solution for your construction accounting needs.
In this comparison, we presented Buildertrend integrated with QuickBooks Online Plus. Although these two software products are separately billed, we found that Buildertrend with QuickBooks Online Plus is the ultimate solution for your construction management and accounting needs.
We believe that Sage 100 Contractor offers a middle ground between price and features. QuickBooks Premier Plus Contractor Edition is also a worthy option, but you'll be sacrificing construction management features such as scheduling and logs.
Buildertrend offers a huge discount for the first two months of the subscription. It has no free trial, but you can cancel your subscription within your first 30 days with a full money-back guarantee if you're unsatisfied with Buildertrend's features.
Buildertrend combines project management, accounting, financial management, and presale management in a single platform. After logging in, its dashboard gives you quick access to all of its programs and features.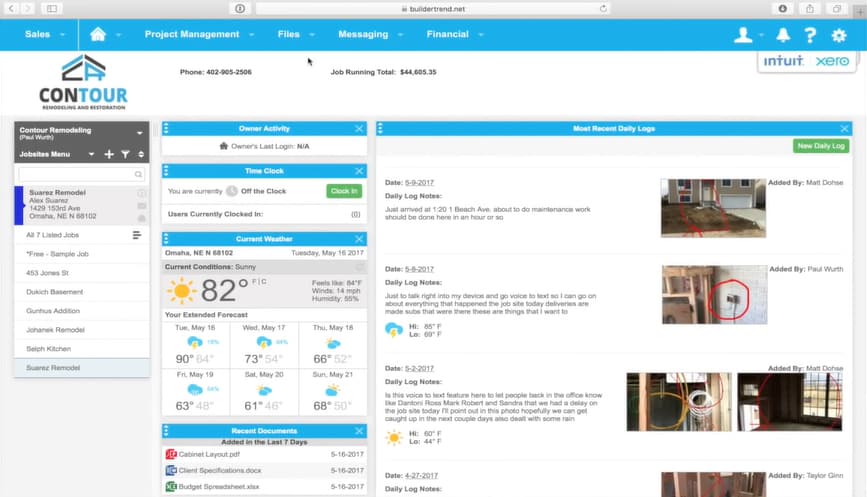 Buildertrend's Web Dashboard
---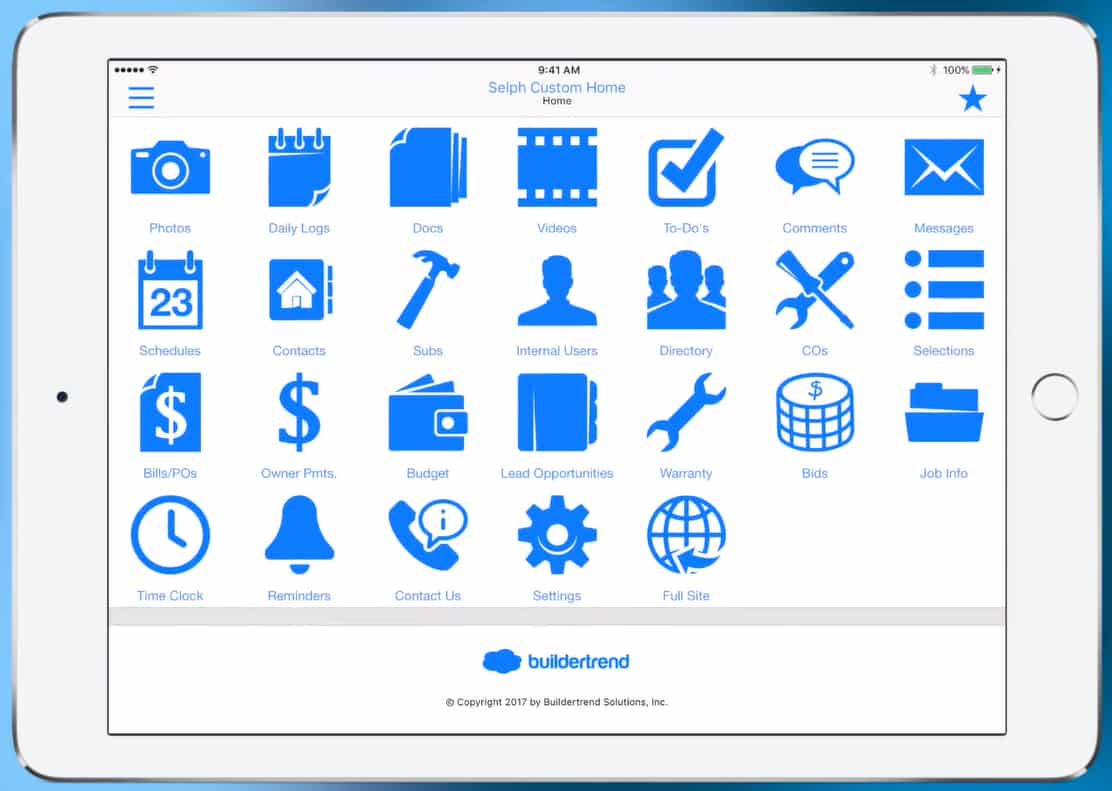 Buildertrend's App Dashboard
---
Buildertrend also has accounting and financial tools that can help you manage the financial aspect of your construction projects.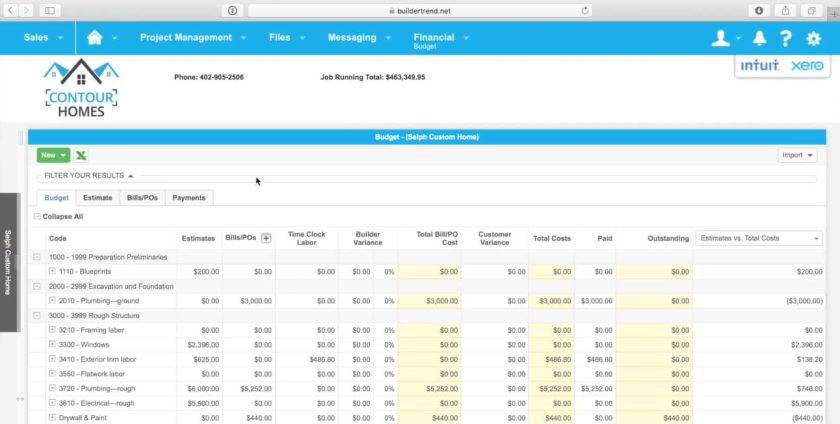 Create and Manage Budgets
(Source: Buildertrend)
Budgets: Before starting the construction, you can create a budget to set standard costs. But as the construction progresses, the budget module will also report actual costs and budget variances for your evaluation.
---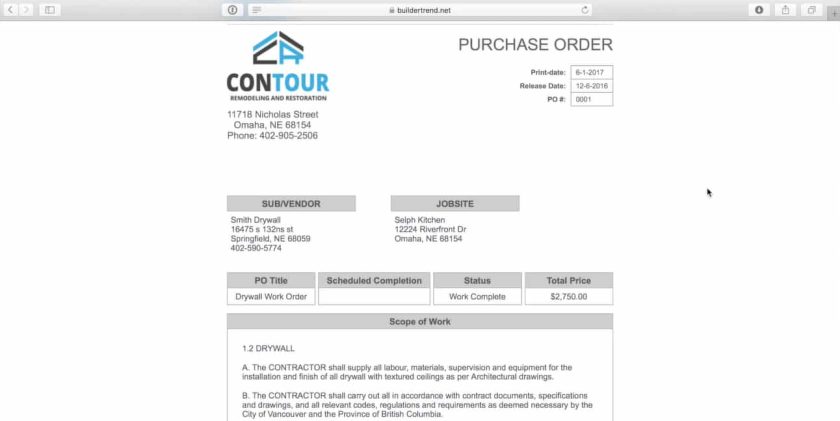 Sample Purchase Order
(Source: Buildertrend)
Purchase orders: Create detailed purchase orders and instructions in Buildertrend. The POs will contain all information about the order and subcontractors can sign below the PO if they agree to the terms.
---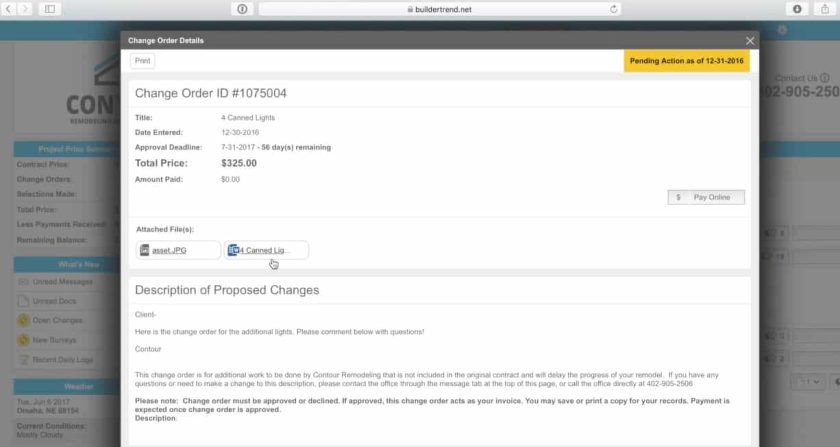 Change Orders from Clients
(Source: Buildertrend)
Change orders: You can create change orders if there are additional costs needed in the project. Clients can view the change order through the client portal and then use the comment section below the proposal to raise their concerns. If the clients agree with the change order, they can e-sign the change order and send additional payments.
---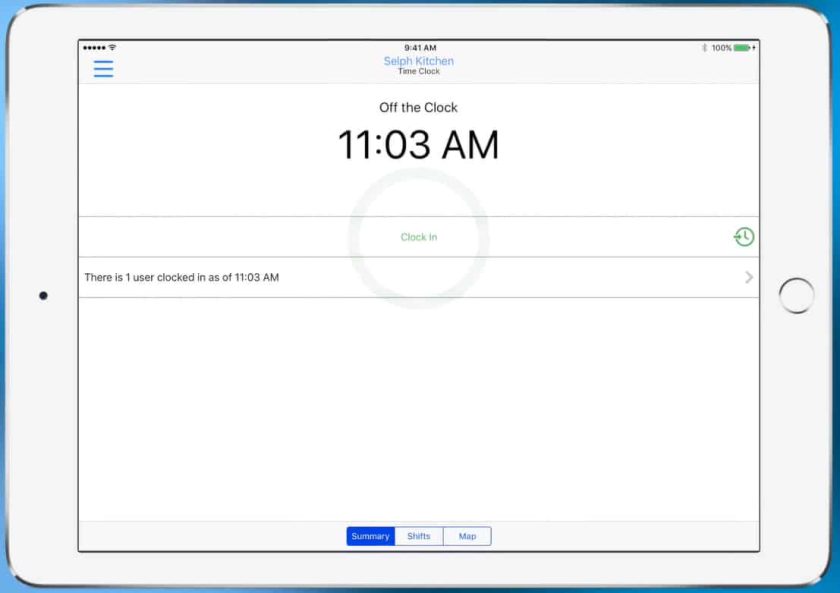 Time in and out via the Mobile App
(Source: Buildertrend)
Time clock: Its built-in time tracking system includes a geofencing feature that alerts the supervisor when a crew enters the identified geofence zone. When the crew leaves the zone, the time clock stops recording the time, allowing the supervisor to track the employee even without clocking in or out. It also has GPS location tracking for more accurate tracking of remote and on-site employees.
---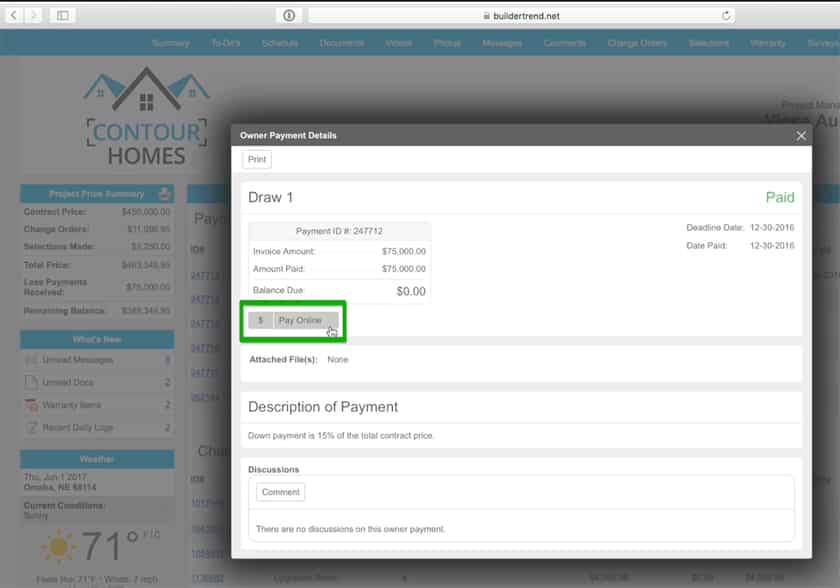 Online Payments via the Client Portal
(Source: Buildertrend)
Online payments: Clients can pay via electronic check or credit card through the client portal. If Buildertrend is integrated with QuickBooks and Xero, receiving payments automatically updates client invoices.
---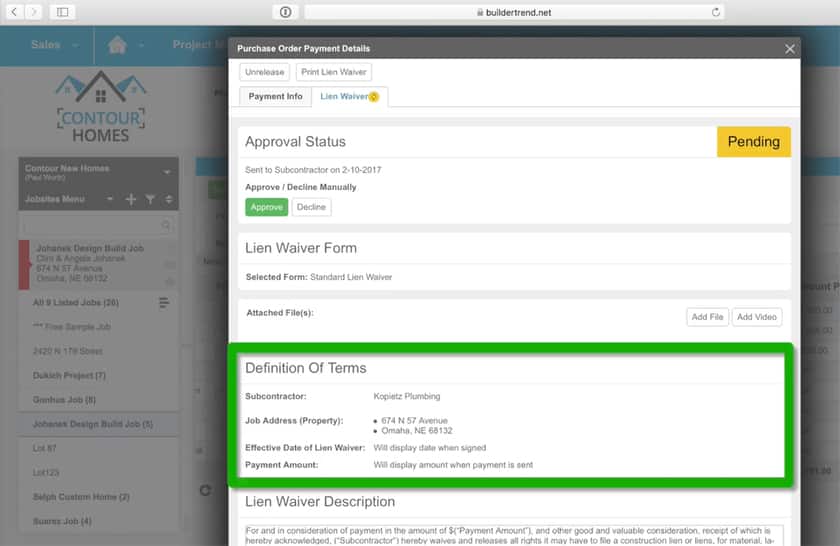 Lien Waivers
(Source: Buildertrend)
Lien waivers: Once subcontractors have completed their job, you can release lien waivers that Buildertrend automatically generates once payments to subcontractors have been made.
---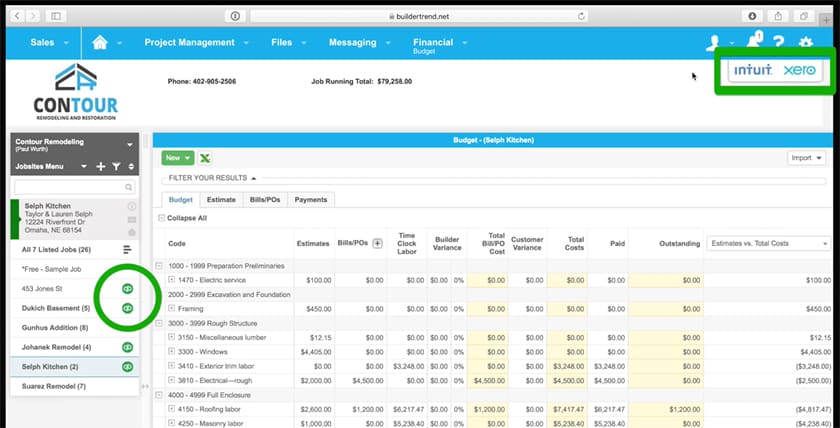 Bookkeeping Software Integrations
(Source: Buildertrend)
Integrations: You can export financial data to QuickBooks or Xero and non-financial data (e.g., schedules, documents, etc.) to Outlook, Google Calendar, and iCalendar.
---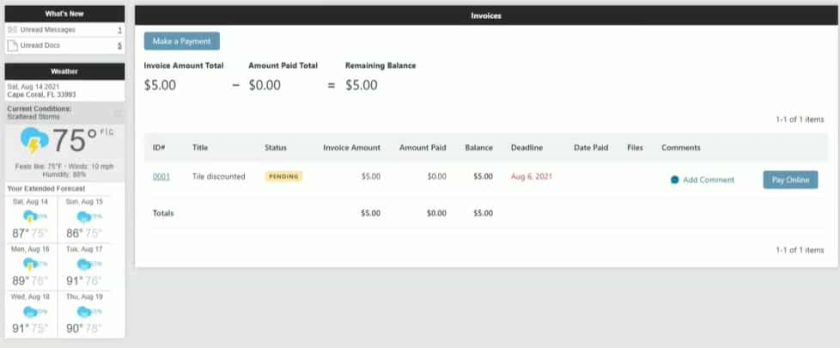 Invoicing Module
(Source: Sposen Signature Homes)
Invoicing: Create line-item invoices based on your billing preference—whether you prefer progress billing, invoicing off estimates, or billing from your selection sheet. For easy invoice creation, you may use its readily available templates.
---
Buildertrend offers project management features that can assist in planning, organizing, and monitoring construction projects. Whether you're on-site or at the office, Buildertrend's wide accessibility ensures that you can communicate with your employees wherever they are.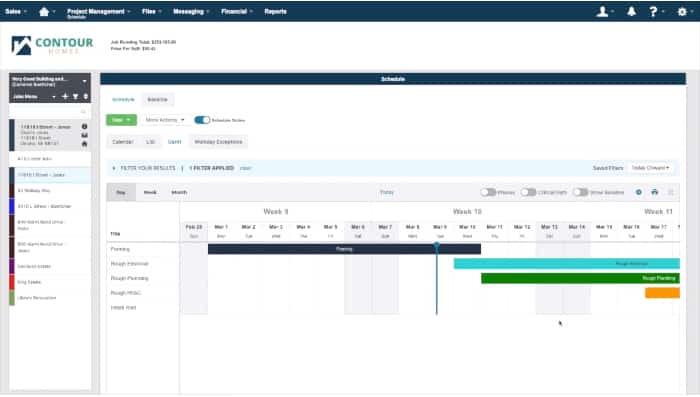 Scheduling via Web Dashboard
(Source: Buildertrend)
Scheduling: Buildertrend offers different ways to keep you on schedule. It has a built-in calendar where you can see an overview of the month. The calendar also shows your tasks as they occur during the week or month, similar to a Gantt chart.
---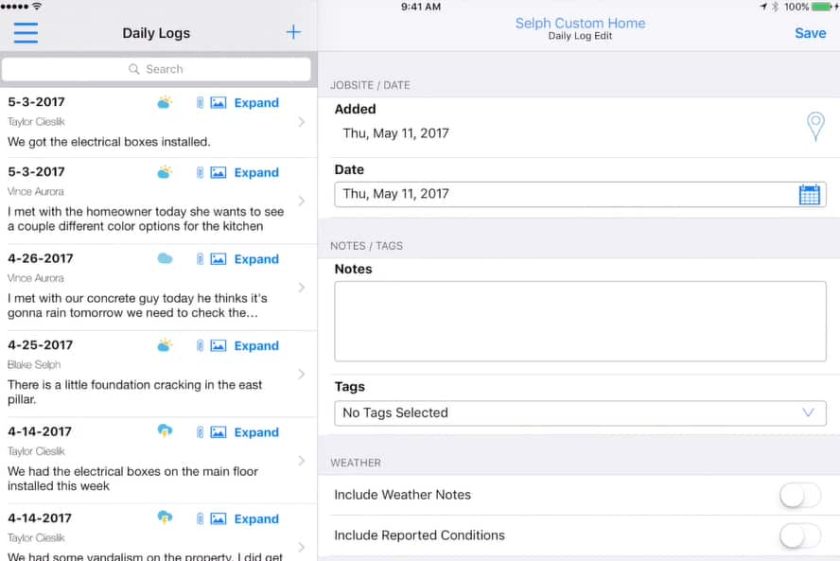 Updating Your Team with Daily Logs
(Source: Buildertrend)
Daily Logs: Logs help your team get real-time updates about accomplishments or changes in the construction process. You can upload photos and videos to alert off-site employees about problems or progress updates.
---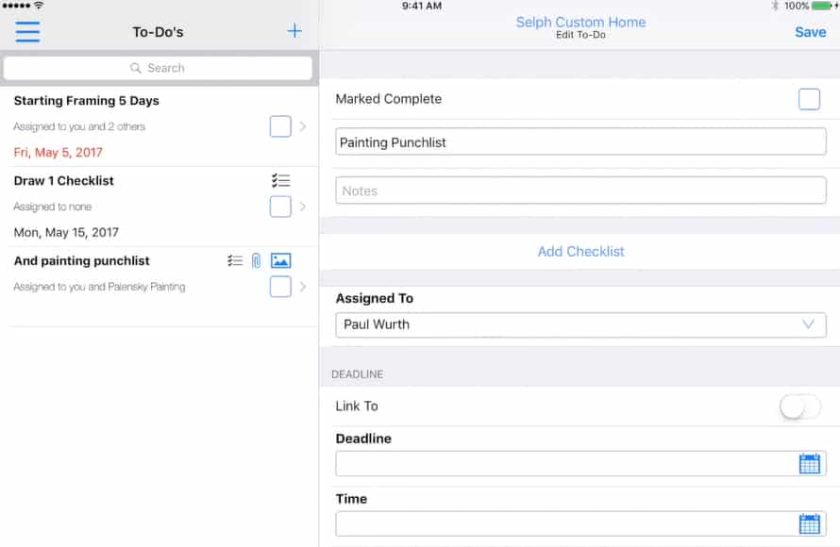 Creating To-do Lists via Mobile App
(Source: Buildertrend)
To-do Lists: With the Buildertrend app, you can create to-do lists to ensure that all tasks are completed. You can even assign specific to-dos to any of your employees.
---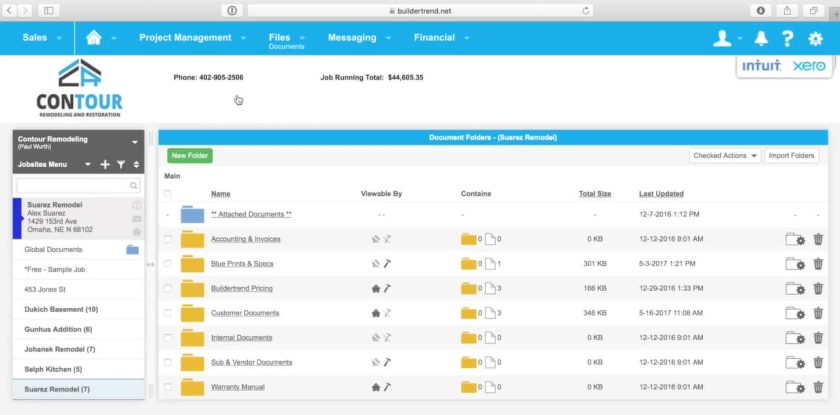 Managing Documents and Media in Buildertrend's Online Storage
(Source: Buildertrend)
Documents & Photos: Buildertrend offers unlimited storage for documents and photos. You can upload progress photos of construction projects or document issues encountered during construction.
---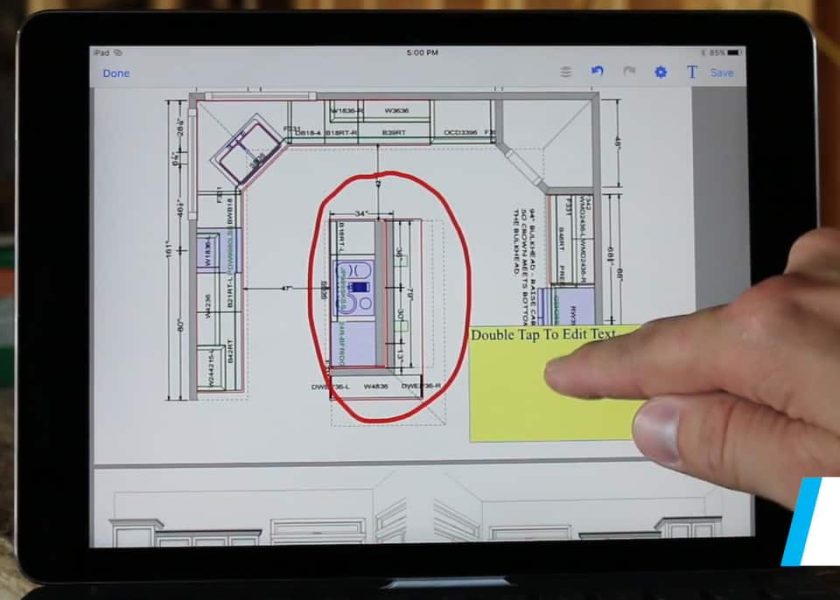 Insert Markups and Notes in Plans
(Source: Buildertrend)
Mark Up Plans: If the officer onsite detects a problem with the plans, Buildertrend has a markup feature to make annotations and drawings over the plan. This feature helps point out design mistakes or construction problems encountered that affect the initial design.
---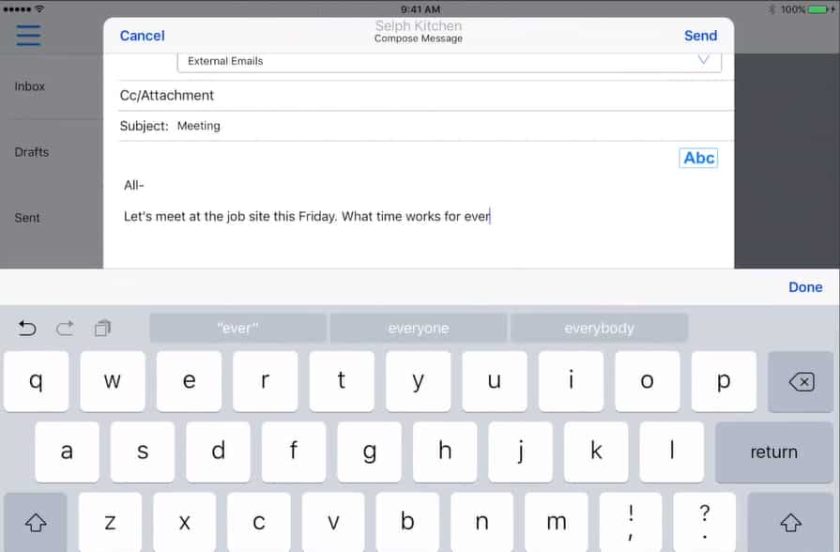 Communicating with Employees and Subcontractors
(Source: Buildertrend)
Messages via Mobile App: The Buildertrend app has push notifications from messages or emails to alert employees of assigned tasks, changes in construction, or any information that might concern them.
---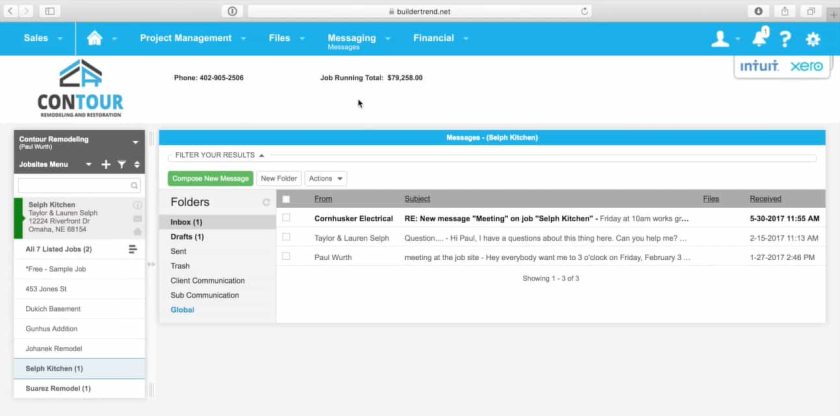 Managing Messages using the Web Browser
(Source: Buildertrend)
Messages via Web Browser: People at the back office can easily see messages from employees in the field through the web browser.
---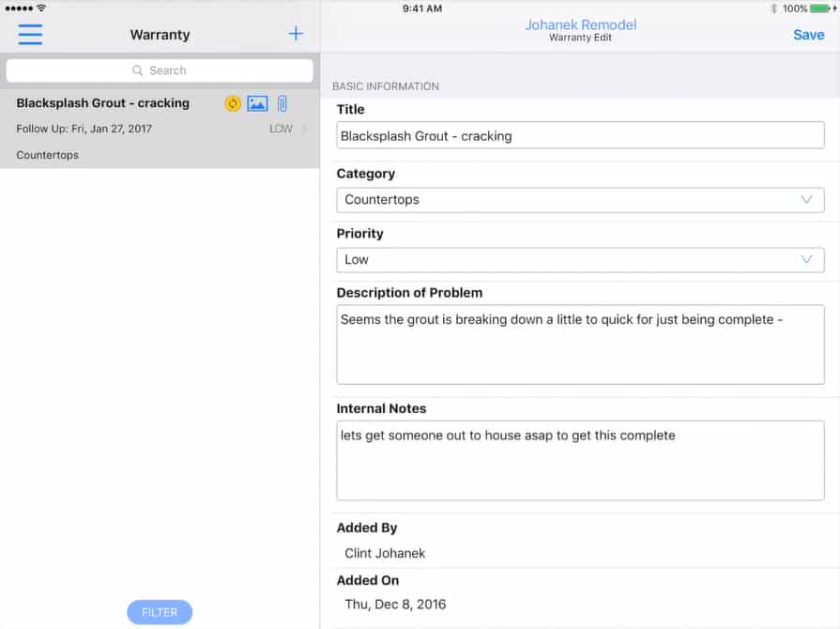 Warranty Claims from Clients
(Source: Buildertrend)
Warranty: If clients experience problems with the completed project, clients can raise their concerns through Buildertrend's client portal. Contractors will receive warranty claims requests in the Project Management tab. Clients can also send photos as evidence when filing warranty claims.
---
Buildertrend has a simple and logical user interface that is easy to navigate, even for new users. It includes a handy menu at the top so that you can navigate through important features like Sales, Financials, Project Management, Files, Messaging, and Reports. The report insights are laid out well and can be viewed instantly with a few clicks of a button, showing breakdowns of job logs, estimated cost versus actual cost, sales leads, and other essential metrics.
Buildertrend Learning Academy is a training platform that helps Buildertrend users understand the features of the software. It has onboarding programs, certifications, monthly live webinars, and resources available for subscribers.
In addition to the Learning Academy, users can join the Buildertrend Online Conference. This is a one-day conference that aims to discuss strategies for using Buildertrend to improve their businesses. The conference is free, and you can watch the most recent conference on Buildertrend's website.
Buildertrend User Reviews
Users appreciate Buildertrend's integrations with Xero and QuickBooks and the fact that it's available for all three plans. Reviewers also praised the construction-specific features, such as the customer relationship management tool that works well for tracking leads and activities.
Buildertrend's biggest drawbacks are that it lacks approvals for payment processing and subcontractor capacity planning on the scheduler. Other users found it difficult to track capacities and reporting of capacities and workloads.
The platform earned the following average scores on popular review sites:
GetApp: 4.5 out of 5 based on about 1,580 reviews
G2: 3.8 out of 5 based on around 55 reviews
Featured Customers: 4.8 out of 5 based on about 1,140 reviews
Frequently Asked Questions (FAQs)
How much does Buildertrend charge per month?
Buildertrend's pricing depends on your plan, which ranges from $399 to $1,299 per month. You'll receive a significant discount for the first two months of service, where you'll pay only $99 to $899 monthly, depending on the subscription you select.
Does Buildertrend offer a money-back guarantee?
Yes, Buildertrend offers one for 30 days.
Does Buildertrend software include construction estimating?
Yes, and Buildertrend's system makes it easy to build estimates and deliver customized proposals. You can start from existing templates, collect signatures electronically, and import information from Excel.
Bottom Line
Buildertrend is a flexible solution that combines cost accounting, project management, and CRM in one place. It has an intuitive dashboard and some nice features, such as a mobile app that allows your employees to clock in and out directly from the job site. However, it lacks accounting features unless you integrate with QuickBooks Online Plus, which we highly recommend.